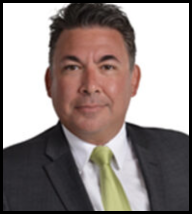 Andy has represented thousands of adults and children in front of the Social Security Administration. He grew up in Berwyn, Il. and graduated from Morton West High School. He worked his way through school, attending college locally at the University of Illinois at Chicago, working as a carpenter (United Brotherhood of Carpenters and Joiners, Local 10).

During his time as a carpenter, Andy came to realize how quickly health and good fortune could be lost when one suffers a work ending injury or illness. This realization prompted him to pursue his long time dream of becoming a lawyer. He went to law school at Touro College on New York's Long Island, graduating in the year 2000. And, later, it was the encouragement of his uncle, who served as an Administrative Law Judge for the Social Security Administration, that convinced him that the practice of disability law was a field where he could put his particular experience and training to good use..

In 2017, Andy formed the Law Office of Andrew A. Barone, LLC. , located in North Riverside, Illinois. The Law Office of Andrew A. Barone , LLC is a practice concentrated in Social Security disability matters that proudly serves Chicagoland's disabled community.